Great Cartoon Collections to buy and use forever!
Make 'em Laugh offers Great Value Newspaper Cartoon collections
Our CD cartoon collections contain high resolution scans of the images as TIFF files ideal for printing use. Just load these in to any applications that imports TIFF images. Most Software that handles images can load TIFF files.

You can check which software products support TIFF below! Or look at the "Import Picture" feature of your software and see what types are supported.

If you buy the Collections on line you get web ready images in GIF format of the same cartoons. These can immediately be included on your web site and are reduced in size (approximately 400 pixels wide) ready to appear without window movement on a web page. On-line you do not buy the high resolution images suitable for printing!
The best way to choose the cartoon you want is to buy the manual which contains all 1000 of the series 1 cartoons at a low price. The manual contains the files reference names for each cartoon. (Note - does not contain Funny Business Cartoons.)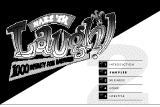 You can use these cartoons in thousands of ways in your document. Laughter is the very best way to get people to look at what you do. So the cartoons will get people to read your document be it newsletter, ad, flier or whatever. When you get attention then you get results. We've got lots of ideas on how to use the cartoons and we'd like more!
---